Welcome to our Fall 2018 Quilt Market Recap!
We recently returned from International Quilt Market in Houston, TX! We want to take you on a virtual tour of our booth, featuring collections from Elizabeth Hartman, Carolyn Friedlander, Violet Craft and more. Explore the various collections and projects below!
These lovely RK quilts were made and quilted by Sandi Irish of Irish Chain, and they are absolutely stunning!
Elizabeth Hartman - Berry Season
Berry Season features 28 sweet, nature-inspired SKUs, along with 6 new colors of Kitchen Window Wovens! Elizabeth decked her booth out with mushrooms, bees, strawberries, and more gnome-friendly decorations, and earned the Best Single Booth award! Check out her booth and all her new quilt patterns below!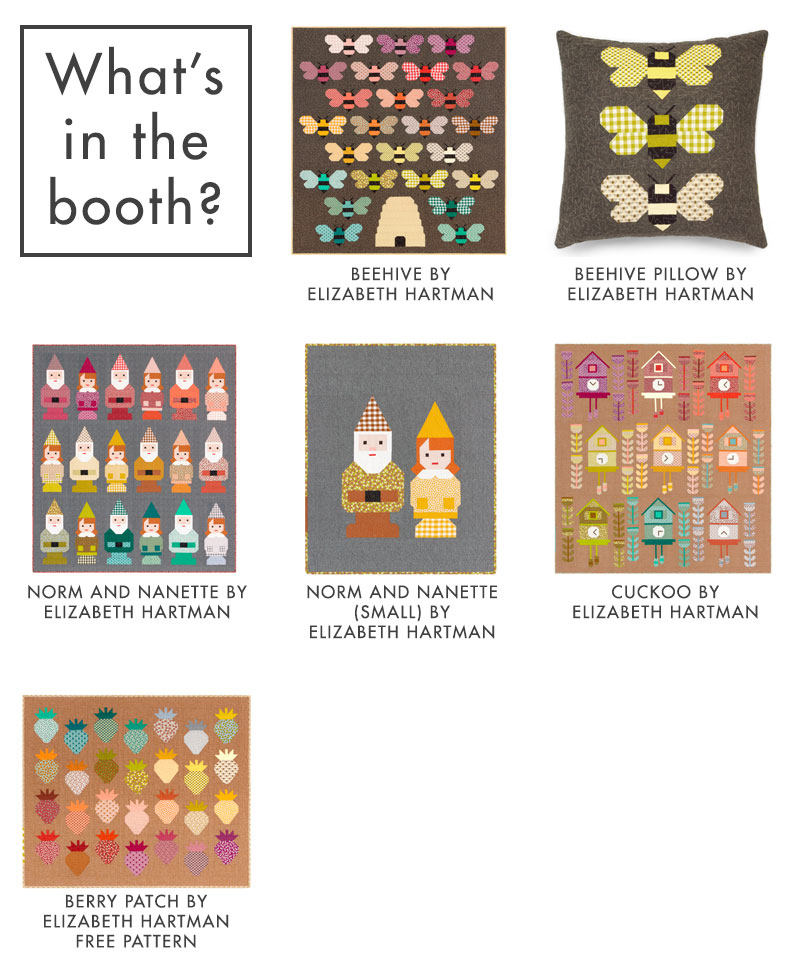 Carolyn Friedlander - Harriot/ Harriot Yarn- Dyed
Carolyn's newest collection is actually two collections in one! Harriot and Harriot Yarn Dyed offer a variety of prints and textures that play beautifully together. Featuring two screen prints in a variety of colors (+ unique border details and a scallop design), as well as yarn-dyes in an array of designs and weights, Harriot is perfect for quilts, accessories, garments, and home dec projects! Explore Carolyn's booth, fabric and projects below:

Violet Craft - Betty's Luncheonette
Betty's Luncheonette is the newest collection from designer Violet Craft, inspired by her mother Betty and her vintage style. These 33 fabrics are all so sweet and cheery, you'll want to get your hands on every single one. Explore all of Violet's new quilt patterns below - there's truly something for every kind of quilter!
Carrie Quinn - Charlotte c. 1860
The Charlotte c. 1860 collection by Carrie Quinn features 23 traditional fabrics in rich creams, blues, and browns. Learn more about Charlotte's Medallion, the 8-Month Block of the Month program featuring the Charlotte c. 1860 collection, and explore more of the booth below!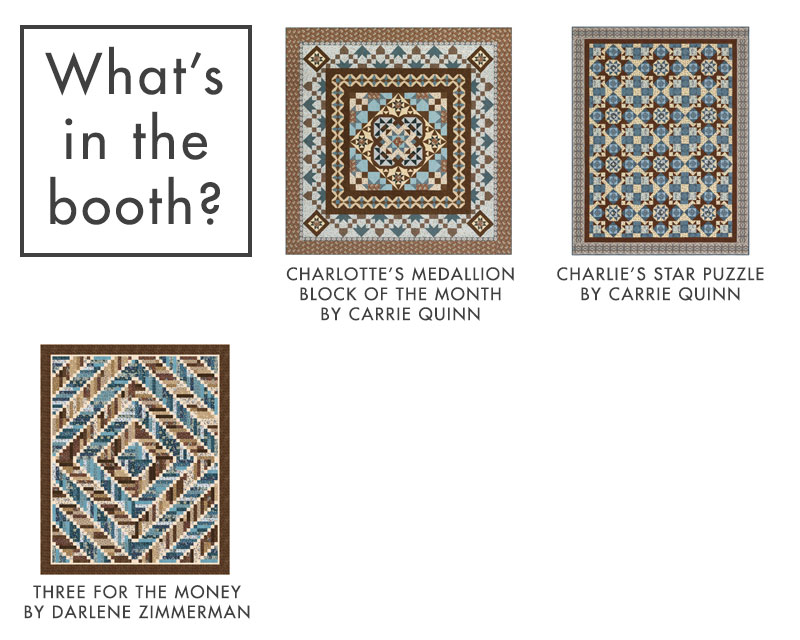 Thanks for stopping by our recap! We hope you enjoyed it!