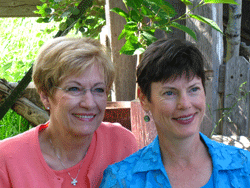 Today we'd like to introduce you to two very talented women who have combined their talents to create Piece O' Cake Designs: Rebecca Goldsmith & Linda Jenkins. Funny, talented and very motivated: that's the only way to describe this duo. Enjoy our interview with them!
Swatch & Stitch: Describe your backgrounds in design. How did each of you get started?
Rebecca Goldsmith: "I have a BA in Interior Design. I never actually practiced the profession but I like to think that my house looks good. When my kids were little I went back for a year of art classes at the University of Tulsa.
I suppose I have combined what I learned in school with what I see around me every day and that is what turns up in the designs in my quilts.
I started quilting when my youngest son, Jeff, was not quite a year old. He's 25 now. He and his brother, Chris, needed something for their bunk beds and I decided to try my hand at quiltmaking. I took classes and joined the Green Country Quilt Guild in Tulsa which is where I met Linda. We've been friends ever since."
Linda Jenkins: "I was a hairdresser and make up artist for 20 years. I developed a fine eye for color. During this time I also did some home decorating for people. Most of my design comes from instinct.
We met at the Green Country's Quilter's Guild. Our friendship developed as we found we had similar interests. We had a small antique business before we went into the Quilting Industry."
S&S: When did you decide to team up?
RG: "When Linda and Paul moved to Colorado (the first time) and Steve and I moved to Texas we started Piece O' Cake. I had drawn a block for Linda's going away quilt that became our first pattern. I don't remember worrying about working together from different states and, luckily, it has worked out well for us both."
LJ: "We decided to team up in 1993 as we were both moving from Tulsa. Our business has always been a long distance venture. We have not lived in the same town since shortly after starting the business."
S&S: Is it challenging to be a team in this industry?
RG: "I think it's challenging to be a team at any time, in any industry. We've been together longer than many people have been married! I credit Linda with teaching me to confront and talk through the harder issues that come up in a partnership. I think that we've made it because we still communicate well."
LJ: "I have found it to be an advantage. We are able to design and publish more due to their being two of us."
S&S: How are your design decisions made?
RG: "We each make what we are most interested in making. I have the background that makes it easier for me to do the drawing. If I'm drawing for Linda, she lets me know what she wants and I try to provide it. If I miss the mark we work on it until it's right. When I draw for myself, Linda makes suggestions if she thinks she needs to.
We still like a lot of the same things and we work in the same color palette. I don't know that quilters can tell at a glance who made any of our quilts because our styles are so similar."
LJ: "We brainstorm each others ideas while fine tuning them. There being two of us gives Piece O' Cake its unique look. It is the melding of our ideas that has helped us stand apart."
S&S: Where does each of you find your inspirations?
RG: "I look at magazines and I keep up with a lot of design blogs. But truthfully, I come up with my best designs when I have a deadline and have to sit down and draw something. Fortunately, ideas are usually waiting there, in my head, for me to draw."
LJ: "Everywhere!!! Recently while we were in Hawaii together the painted ceiling in a outdoor bathroom at the beach led us to a color palette for a new fabric collection."
S&S: If there is a conflict in your design process, how is it resolved?
RG: "We don't usually have conflicts in the design process. We have time issues. When I am most busy, Linda sometimes isn't and vice versa. We've been doing this long enough to know that that's just the way it is.
However, when we do have conflicts we invoke the 3-day rule. Let whatever it is sit for 3 days and when we come back to it we've always come back with the same answer. It works for us."
LJ: "Very seldom are we not able to meld our ideas together. We have a 3 day rule if we can not come to an agreement. The rule is we don't talk about it for 3 days. After 3 days it is amazing we both have come to the same conclusion. In a partnership you have to not let go of your ego sometimes on an idea."
S&S: OK, who wins the arguments?
RG: "We both win. How can it be good if you start declaring winners and losers?"
LJ: "Neither. We reach a mutual agreement or we don't proceed. We both sometimes will go with the other ones idea if they feel strongly about it. We trust each others instincts."
S&S: What are the benefits of being in a team?
RG: "We each do what we do well which allows us to get more done."
LJ: "You have a partner you trust to bounce ideas off of. Also there are two to do the work."
S&S: How do you think your talents have evolved while being in a team?
RG: "I used to be a lot more competitive and I like to think I've mellowed and that is a direct response to being in this partnership. I have learned to respect not just Linda's ideas, but to acknowledge that there is always more than one way to do anything. In respect to the evolution of my talents - this means that I am more open (I hope) to new ideas."
LJ: "I can give you an example. Becky when we met was in her Double Wedding Ring series with Hawaii prints. I was into matching everything exactly with my decor. She could go over the edge and I was the middle of the road. I pulled her back from the edge and she pulls me away from the middle. Over time we have met in a good place."
S&S: What advice would you give to those looking to get into your field of work?
RG: "Work hard. Don't expect to make a living right away. Work hard. Go to market. Talk to others in this field. And continue to work hard."
LJ: "The same is true for any small business don't expect to take a salary for two years. You will need to invest everything you make back into the business to grow. I have seen many good businesses fail because of having to take a salary. The money you invest needs to be money you can afford to loose."
S&S: What is your all-time favorite design from your partner?
RG: "The quilt I most associate with Linda is A Walk in the Mountains. I don't know that I would say it's my most favorite because I tend to be more interested in whatever we are currently working on - and that would be true of both of our quilts."
LJ: "Simply Delicious a series of appliqued botanical fruit designs"
S&S: Explain your design process from idea to final product.
RG: "Using our next Christmas book as an example - we decided it was time to re-visit Christmas. Linda was more interested in this than I was so she decided what sort of projects she wanted to work on. I got those drawn for her when I was at her house in Grand Junction. When we can, that's an easier way to work because she can let me know right away if things are looking good to her."
LJ: "I came up with a quilt that I wanted to make for the book. And I opted to make the Christmas stockings because my son, daughter-in-law, and grandkids lost (through no fault of their own) their first Christmas stockings.
C&T liked the ideas and we moved forward. The projects, manuscripts, and drawings were finished on time. We made the step-outs for the photographs for the book and then we moved on to the next project."
We'd like to thank Piece O' Cake Designs for their time and their wonderful answers. Make sure you head over to the Robert Kaufman web site here and take a look at their new release Daisies & Dots which is arriving in stores in January 2011.